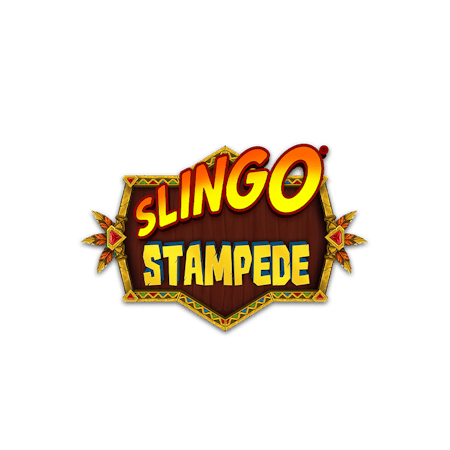 Slingo Stampede
Play Slingo Stampede Slingo Game at Betfair Bingo
This Africa-themed game from Slingo comes with a five-by-five Slingo card and a five-by-three video slot for you to find matching numbers on. This wild Slingo Stampede even has additional wins on the table if you find a herd of Rhinos on the reels.
Slingo Stampede game features
The biggest divergence from the norm in Slingo Stampede is the use of a full 5x3 video slot to locate your numbers. So, on each spin, you could get as many as three numbers for a column.
On the reels, you can also find Free Spin, Wild, and Super Wild tiles. The Free Spin will grant you one additional spin. Wild lets you pick one number from the column above to scratch off, while Super Wilds let you get rid of any number that you want – even the corners or middle number!
There's a bit more to Slingo Stampede, though. Down the right side, there's a Scatters prize ladder. To climb this to win the Instant Prizes, you'll need to land multiple Rhino Scatters on the reels during one spin. The more you get, the larger your prize becomes.
How to play Slingo Stampede
To play Slingo Stampede, you need to input your bet amount with the Coin Stack button, and then press the green flashing Start Game button to play. You'll then get five spins to dab as many Slingo lines as you can. The more Slingos you get, the higher you'll climb the Slingos prize ladder. This game has 25 pay lines. 
Similar Games at Betfair Bingo
Slingo comes in many shapes and sizes these days, so check out other novel variants like Slingo Starburst, Slingo Inca Trail, or even the ever-popular Slingo Classic.
CAN YOU GET FREE SPINS IN SLINGO STAMPEDE?
You can get Free Spins in Slingo Stampede if the reels land with a Free Spins symbol. This will add one additional spin to your Spins count.
WHAT'S THE BEST NUMBER TO REMOVE WITH A SUPER WILD IN SLINGO STAMPEDE?
Slingo Stampede is an entirely randomised game, so you never know what number will roll in next. That said, the middle number can be a part of four Slingos, so it seems like the best number to remove if it's still there.