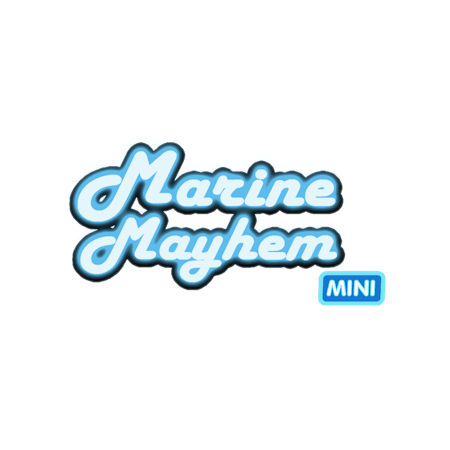 Marine Mayhem Mini  Jackpot Game
Play Marine Mayhem Mini Slots for Real Money on Betfair Bingo!
Down at the bottom of the ocean it's madness. In among the schools of fish and coral reefs you'll find five reels packed with potential. Set inside the oceanic confines of Marine Mayhem Mini, these reels have the power to unlock precious sunken treasure chests!
Marine Mayhem Mini Game Features
Before you dive down in search of fixed wins and progressive jackpots, you need to set your bet. For Marine Mayhem Mini slots, the minimum stake per payline starts at 0.10 coins and scales up to five coins. In tandem with your bet size, you can activate between one and five paylines. That means it's possible to embark on an aquatic adventure for just 0.10 per spin.
Once you're swimming in a sea of possibilities, the ocean critters will be there for support. By lining up three or more of the following across an active payline, you'll score a fixed prize worth between four times and 7,500X your line bet:
Card symbols
Seahorses
Tropical fish
Turtles
Jellyfish
Orcas
Dolphins
For an even bigger payout, five treasure chests will release the progressive jackpot. However, as we'll explain, the size of your prize will be determined by the size of your wager.
Marine Mayhem Mini Slot Game Strategy
Like many of the top Virtue Fusion slots, Marine Mayhem Mini gives up a percentage of its progressive jackpot based on your stake. Based on this, you can improve your potential returns by upping the size of your bet.
Although, even with mega jackpots up for grabs, blowing your budget will mean you may find yourself in the deep end. Therefore, when you play Marine Mayhem Mini slots, make sure you balance your risk with these potential rewards:
0.10 coins pays 2% of jackpot
0.20 coins pays 4% of jackpot
0.30 coins pays 6% of jackpot
0.50 coins pays 10% of jackpot
0.75 coins pays 15% of jackpot
1 coins pays 20% of jackpot
1.50 coins pays 30% of jackpot
2 coins pays 40% of jackpot
3 coins pays 60% of jackpot
4 coins pays 80% of jackpot
5 coins pays 100% of jackpot
Marine Mayhem Mini Return to Player (RTP)
With an RTP of 93% and a 1% jackpot contribution, Marine Mayhem Mini is a solid proposition. As long as you're willing to dive in and take a spin, you may have plenty of opportunities to emerge from the ocean with some sunken treasure.
If Marine Mayhem Mini has whetted your appetite, why not take a spin on Beachside Bonanza for some on-shore fun?