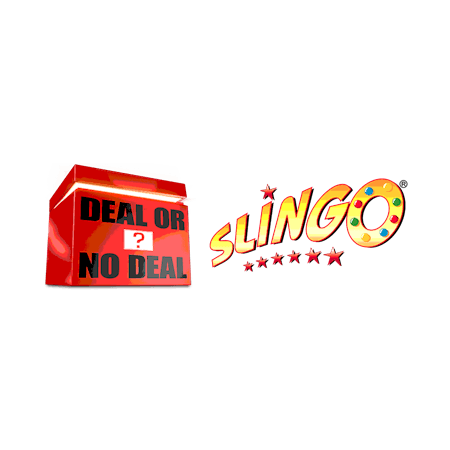 DEAL OR NO DEAL © 2003 Endemol Shine IP B.V.
Deal or No Deal Slingo
Deal or No Deal Slingo Slot Game Details
Have you got what it takes to beat the Banker? Fire up the reels of Deal or No Deal Slingo, for one of the most exciting fusion games available to all new and existing Betfair Bingo customers.
Match the numbers on the reel to the numbers on the boxes in your grid above to create slingos and receive an offer from the Banker based on the cash prizes remaining on the paddles. Start with ten spins and you can accumulate free spins as you go. You'll also be given the option to buy additional spins at the end to help you complete more lucrative slingos!
Deal or No Deal Slingo Symbols
The main base game symbol to keep in mind is the star symbol. This denotes the numbers that you have been able to match from the reel to your grid. Aside from the star symbol, there's also the chance of landing Joker and Super Joker symbols.
The Joker symbol will allow you to mark off any number in the row above the one in which it landed. Land the Super Joker symbol anywhere and you will be able to choose to mark off any number remaining on your grid to help create more slingos.
Features and How to Play Deal or No Deal Slingo Slot
Start playing from just one credit
Inspired by the hit TV game show
Joker and Super Joker symbols
Unlimited extra spins possible
Slot provider: Slingo Originals
The slingos cover all horizontal, vertical, and diagonal lines in the 5x5 game grid, giving you 12 possible slingos to create. Once you create four slingos, you will receive an offer from the Banker, based on the remaining prizes on the either paddle. You can either accept the offer, open your box and end the game, or carry on spinning.
You can accumulate free spins during your initial 10 spins by landing the Free Spin scatter symbol. This awards you one extra game. Be mindful of the devil symbol too, which can act as a blocker on the reel, preventing more numbers from landing.
Deal or No Deal Slingo RTP
The theoretical return to player (RTP) percentage of this Slingo game is set at 95%. We have more Slingo titles being added to the Betfair Bingo library all the time. In the meantime, be sure to check out our bingo hall slot favourites, including Rainbow Riches!