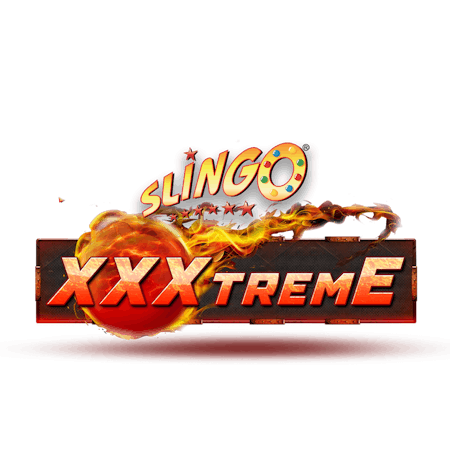 Slingo XXXtreme
Play Slingo XXXtreme – Slot Game Review
Slingo XXXtreme is a game that's designed to be more in every way. Adrenaline-fueled, exciting, and containing all the best elements of bingo and slots, it takes players on a rollercoaster ride to test their luck and try to take home a win!
With faster and better gameplay than ever before, this fun slot is slick, stylish, and features a super-cool fire-inspired aesthetic.  
Slingo XXXtreme Game Details
If Slingo XXXtreme sounds like your sort of game, there are a few things you'll want to know before you give it a go. These include:
Developer: Slingo Games
Number of reels: Five
Minimum bet: 0.2
Maximum win: 1,000x
One of the most enticing aspects of the game is the prizes to be won, but that's not all there is to this extreme slot. Read on to discover some of its numerous fun features and added extras below.
Slingo XXXtreme Symbols
The aim of every slingo game is to get a line, either horizontally, vertically, or diagonally. That's no different here; so you'll need to keep your fingers crossed the numbers on your reels match those on your cards.
Every line you get will represent a win, meaning the more lines you score, the higher your prize will be. If you're lucky enough to get a full house - i.e. 12 lines – expect to walk away with 1,000 times your stake!
Other symbols to keep an eye out for include Jokers, Super Jokers, and Instant Cash Prizes. More on those below.
Features and How to Play Slingo XXXtreme
Most of Slingo XXXtreme's extra features are tied to its symbols. These include:
Jokers. These enable you to mark off any number in the column above. If you get three or more, you qualify for an instant cash prize.
Super Jokers. These allow you to mark off any number on the grid. Again, three or more means an instant cash prize is yours for the taking.
Free Spins. These reward you with one free spin.
Coins. Coins mean you've won an instant cash prize.
Devils. These block potential number matches. You don't want to see one appear on your screen!
Why not play today at Betfair.com?